MagicPaws™ Pet grooming brush

TRY 14 DAYS RISK-FREE
The ultimate tool for your dogs fur problems!
The MagicPaws™ Pet Grooming Brush is the perfect all-in-one device to de-shed your dog. It reveals their healthy, shiny and well-groomed coat in no time!

Reduces hair by up to 95%.
Prevents matting, tangles and knots
100% safe for your dog
14 day free return policy
Proven to reduce hair shedding by 95%
You will be amazed at how much loose fur you will find after just one brush. By brushing regularly, you can remove the dead/loose fur from your dog's undercoat.

Your four-legged friend will not only thank you but will also leave you with a clean and fur-free home, which means you won't have to sweep and vacuum every day!
Gentle and Safe

No pain and no scratching! The rounded blades are perfect for grooming, but gentle and safe for your dog's sensitive skin.

How to use: 
Step 1: Remove mats and tangles with the 9-blade side. Be sure to brush the area with light and short strokes.

Step 2: De-shed and remove loose hair with the 17-blade side. This will remove all excess and loose hair from the undercoat.

Step 3: Clean with the brush and let your furry friends enjoy their healthy, shiny and well-groomed coat!
Loved and trusted by thousands! Do not just take our word for it...
⭐⭐⭐⭐⭐ "We just got it in the mail and tried it out on our Golden. Oh my! This will be the only brush I use. It's best to work in small puffs because it pulls on the hair in the thicker areas. But once you thin it out, you can speed up the process. In just 5-10 minutes, I had a small ball of golden "yarn". About the size of a softball. I teased my kids that we could spin yarn out of it."

- Nicole R. (California, USA)

⭐⭐⭐⭐⭐ "This is the most amazing little grooming tool. I don't know how we got along without it before - honestly."

- Alyssa S. (Adelaide, Australia)

⭐⭐⭐⭐⭐ "I can't praise this product enough!!!! My Belgian Malinois has tons of hair and I have bought 5 other worthless products to help with the hair, but THIS product works!!!! The other great thing is that there is so much less hair on my floors! Maybe 90% less hair in my house! Less sweeping and vacuuming!!!

I have always resigned myself to the fact that loving a dog means I have to vacuum 1-2 times a day because the hair falls. NO MORE!"

- Victoria M. (Vancouver, Canada)
FREQUENTLY ASKED QUESTIONS
Q: Does it really work or harm my pet?

A: The MagicPaws™ brush works really well! It does not harm your pet in any way. It is designed to be gentle and safe for your pet's sensitive skin.

Q: What breeds of pets is it suitable for?

A: Our brush is well suited for:

Dog breeds: Labradors, Huskies, Golden Retrievers, Shiba Inus, Aussie Doodles, Beagles, Schnauzers, Chihuahuas, Poodles, Rottweilers, German Shepherds, Newfoundlands, Great Danes, Cairn Terriers, Pomeranians, Great Pyrenees, Shih Tzus, Blue Heelers, Bloodhounds, Chow Chows, Samoyeds, Alaskans, Corgis, Bichon Frises.

Cat breeds: American Shorthair, Maine Coon, Ragdoll, Persian, Maine Coon, British Shorthair, Siamese, Exotic, Abyssinian, Burmese, Bengal, Himalayan, Longhair, Norwegian Forest Cat, Scottish Fold, Siberian.

Q: What if I don't like it?

A: Don't worry! That's why we offer a 100% money back guarantee.

14-Day Money Back Guarantee
We are so sure you will love our product that we guarantee every purchase 100%. It is risk-free, if you are not completely satisfied, simply return the product to us within 14 days of receiving and we will refund you in full without questions. Check our refund policy for more information.
View full details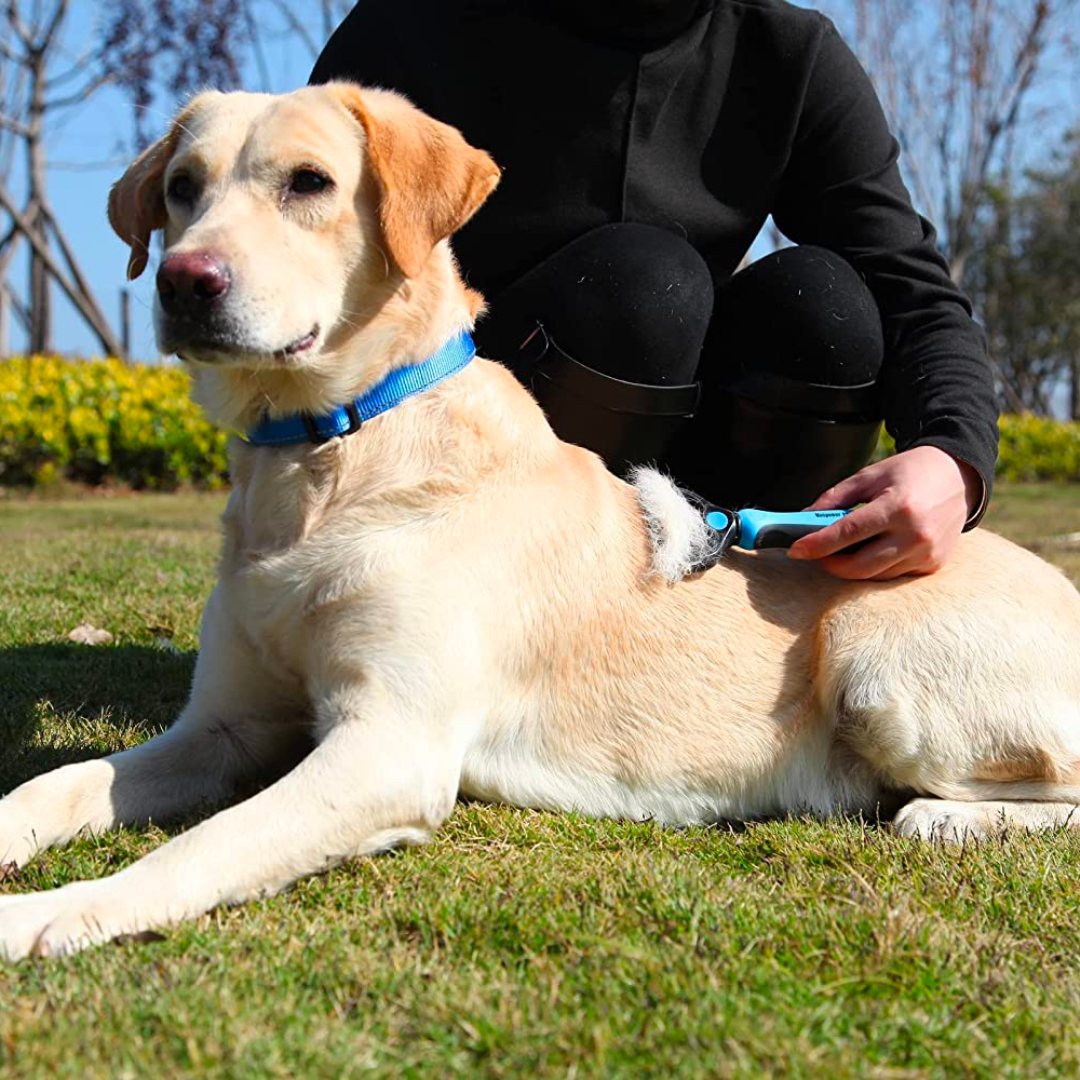 MagicPaws™ Pet grooming brush