MagicPaws™ Calming Cat Blanket

TRY 14 DAYS RISK-FREE

Over 28,968 orders in the last 2 months
TREAT YOUR CAT WITH THE #1 RATED CALMING CAT BLANKET

94% of customers reported that their cat felt less stress and anxiety, and 39% wrote an email expressing that their cat "loves" the blanket!

Our Calming Cat Blanket is specially designed to reduce anxiety while keeping your cat as comfortable as possible. The raised edge creates a sense of security while the high-quality, ultra-soft fur keeps the cat calm and stress-free during stressful times.

BECOME ONE OF OUR SATISFIED CUSTOMERS
"My cat and dog are very picky about where they lay down, but as soon as I put this blanket down, they laid right on it and fell asleep. They are much calmer and more relaxed now!" 
🐾 Added comfort - Ideal for cats who like to curl up! The raised edge supports the head and neck, while the super soft filling relieves joint and muscle pain. Your furry friend will be very relaxed!

🐾 Warmth and security - The raised edge creates a feeling of safety and coziness. The cozy faux fur mimics the ultimate comfort of a maternal fur coat. It has been shown to help your cat calm down and relax faster.

🐾 Improved Behavior and Health - Reducing stress and anxiety in your cat leads to better behaviour and health. This not only improves your cat's life, but also your life as an owner.
🐾 Cleaning cat hair is easier - When your cat sleeps, it sheds hair. Let her sleep in a place where the hair is concentrated, and you'll have less to clean up!

🐾 Ultra-soft, hypoallergenic fabric - Made of ultra-soft fur. The material is specially designed to prevent allergic reactions and irritation to your cat. Its long fibers are soft, durable and machine washable.

🐾 Luxurious Design - Multiple color designs to match any home. The elegant design combined with the cozy look will make your home look extra cozy for your furry friend.

🐾 Easy to clean - 100% machine washable with the following settings: (gentle cycle, tumble dry, low heat).
14-Day Money Back Guarantee
We are so sure you will love our product that we guarantee every purchase 100%. You bear no risk whatsoever. If you are not completely satisfied, simply return the product to us within 14 days of receiving it and we will refund you in full without questions. Check out our refund policy for more information.
View full details
Add an additional description to your product option. Ex: Size guides, and other common questions.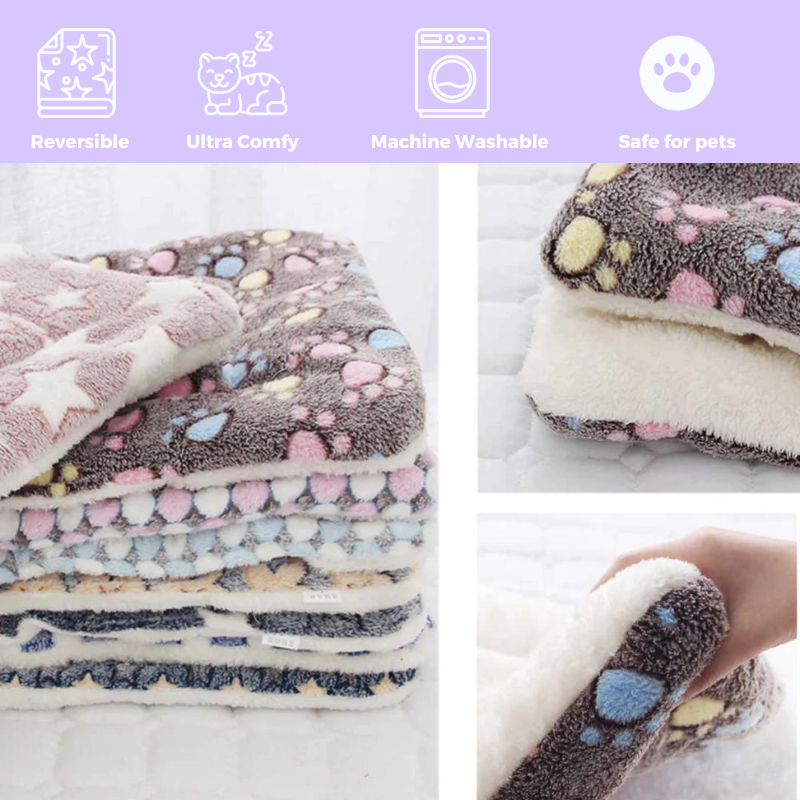 MagicPaws™ Calming Cat Blanket