MagicPaws™ Nail Trimmer 2.0

TRY 14 DAYS RISK-FREE
Over 32,368 orders in the last 2 months
TOP RATED DOG CLAW GRINDER

Are you scared every time you have to cut your pet's nails? Although well-trimmed paws are essential for your dogs, using a nail grinder can be terrifying for dogs! Dogs deserve the best care - without the pain! If you're a pet owner and want to make your pet's nail care painless and stress-free for you, the MagicalPaws™ Nail Trimmer is an essential item in your pet care kit!
WHY CHOOSE THE MAGIC PAWS™ NAIL TRIMMER 2.0?
Save money on grooming
You can now save your money on going to the vet or groomer. With just one purchase, you can easily do the grooming yourself with no risk.

USB charging
No need to buy batteries! Our grinder comes with a USB port and cable. It can work up to 2 hours on a full charge.

Painless grinding of nails
If your pets are afraid of cutting their nails, then you have come to the right place. Trim nails precisely, round and smooth without worrying about over-cutting, uncomfortable pain or bleeding. Your pet's paws will stay soft and your home safe from scratches.

Low vibration and low noise
Featuring a mute brass shaft and unique mute technology that is still strong enough to gently remove thin layers of nail. Sensitive dogs will no longer be frightened, making the job of nail trimming easier!

Removable grinding wheel
The diamond grinding wheel can be easily removed for cleaning. Simply rub the surface with a soft towel and paper towel to keep it as effective as ever.

Suitable for pets of all sizes
Our grinder has three openings that are suitable for different size nails. Choose a suitable opening depending on the size and texture of your pet's nail.
SPECIFICATIONS:
- Charging time: 1.5 hours
- Operating time: 7 hours
- Input: AC100V-240V 50HZ/60HZ
- Output: 5V/350MA
- Charging mode: USB charging
- Battery: Built-in rechargeable battery
14 DAYS MONEY BACK GUARANTEE

We are so sure you will love our product that we guarantee every purchase 100%. You bear no risk whatsoever. If they are not ... completely satisfied, simply return the product to us within 14 days of receipt and we will refund you in full without discussion. Check out our refund policy for more information.

View full details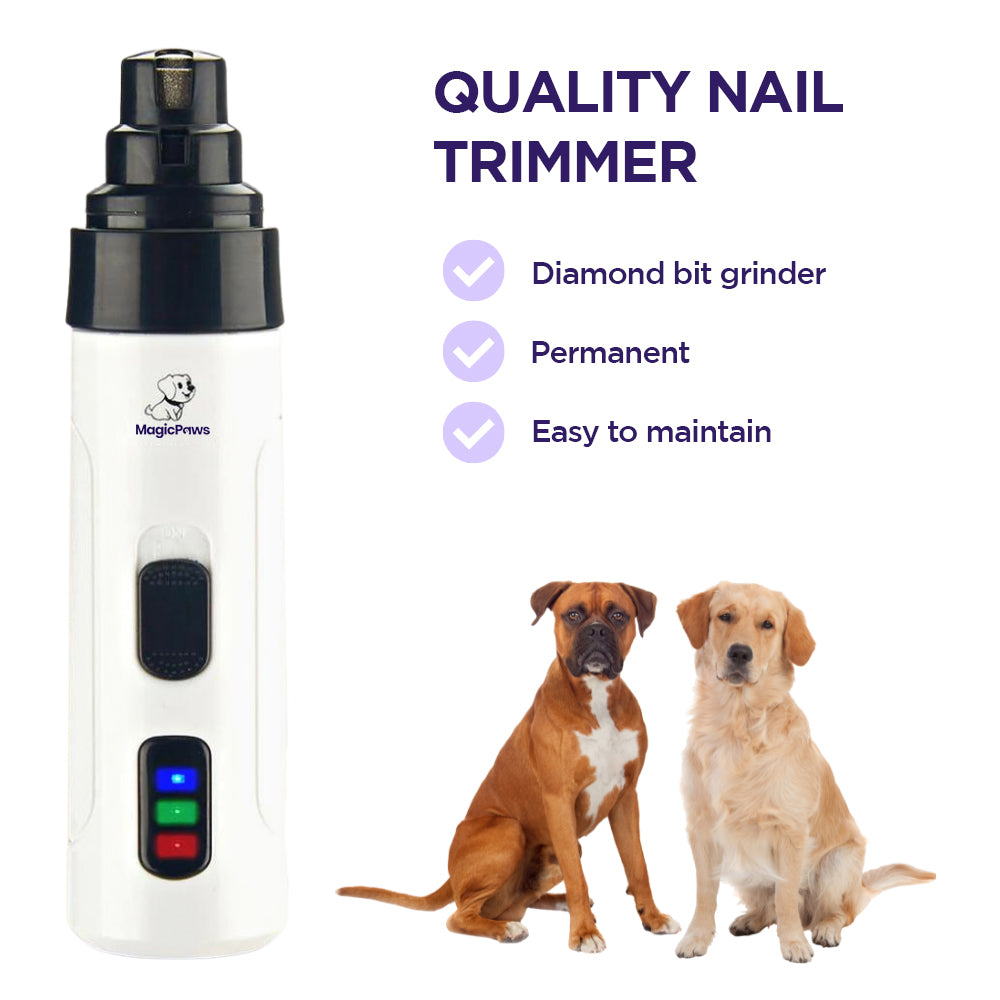 MagicPaws™ Nail Trimmer 2.0